(Source: m.rediff.com)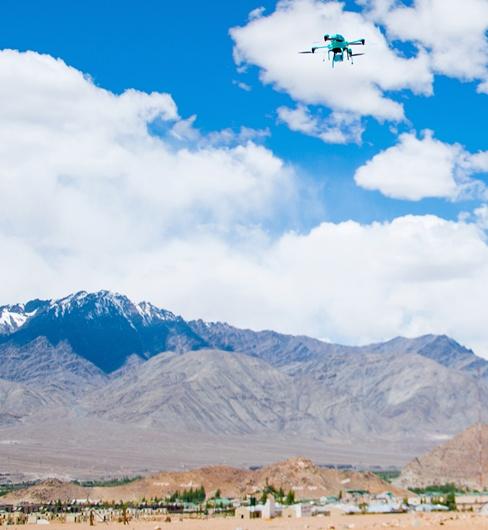 Suddenly, there are drones everywhere in the Indian sky. It is already being touted as the next big opportunity after e-commerce. Amazon, the online retailer, has said it plans to experiment with drones to deliver packages in the country.
Home-grown e-retailer Jabong actually delivered a packet of apparel and shoes using a drone. Francesco's Pizzeria, a pizza delivery service in Mumbai, shocked everyone by delivering a pizza on the roof of a high-rise in Worli, only to face the ire of the police after its video went viral on YouTube.
At the same time, nearly a dozen-odd startups around the country are quietly assembling drones. They have collectively put over 300 drones of different shapes and sizes in the air. And if enthusiasts are to be believed, there are as many drones with people who use it just as a hobby.
Drones are being sold by e-retailers like Flipkart and Snapdeal for less than Rs 40,000 apiece. Flipkart, which stocks about 40 drones sourced from China and the US, says sales have doubled in the last one month.
The prospects are bright enough for large corporations to join the bandwagon. Tata Advanced Systems has bought a majority stake in Bangalore-based Aurora Integrated Systems which was set up by IIT Kanpur engineers.
The company in 2012 received orders for six dozen drones with a price tag of Rs 10 lakh to Rs 30 lakh — an order CEO Raman Puri is confident will double by next year.
He feels that with prices coming down, commercial usage of drones will take off. The company has been approached by people who have sought to use the drones for delivering medicine, to videograph marriages and for aerial photography.
The firm's current licence, however, is for a defence industrial unit, which Puri says clearly states it would need permission from the defence ministry to sell the drones for commercial use.
"It is a serious piece of equipment," he says, and both safety and security aspects need to be kept in mind. In the United States, for instance, there have been instances of drones being used to deliver cigarettes and marijuana to jails.
At the moment, the biggest user of drones is the government: the police, armed forces, wildlife institutes and disaster managers (drones were used to locate stranded people during last year's Uttarakhand floods). That is because the rules permit them to use these unmanned aerial vehicles (UAVs). Civil usage of drones is unregulated and so is its manufacturing.
Continue Reading at m.rediff.com…
Alan is serial entrepreneur, active angel investor, and a drone enthusiast. He co-founded DRONELIFE.com to address the emerging commercial market for drones and drone technology. Prior to DRONELIFE.com, Alan co-founded Where.com, ThinkingScreen Media, and Nurse.com. Recently, Alan has co-founded Crowditz.com,  a leader in Equity Crowdfunding Data, Analytics, and Insights.  Alan can be reached at alan(at)dronelife.com