from Biz Journals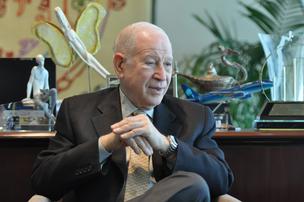 Miami Beach billionaire Phillip Frost is leading an $825,000 investment in Drone Aviation Holding Corp., the Jacksonville-based drone company recently announced.
Frost, chairman and CEO of biotech and pharmaceutical company Opko Health, will also lead the drone company's new strategic advisory board. The company did not disclose how much Frost invested, but said it had received a total of $825,000 after offering $1.5 million of its shares to accredited investors.
"Dr. Frost has a distinguished entrepreneurial track record of success throughout the business community as well as the public marketplace and we are honored to have him chair our Strategic Advisory Board and as an investor in our company," Drone Aviation Holding Corp. CEO Felicia Hess said in a statement.
Drone Aviation Holding Corp. (OTCQB: DRNE) provides surveillance and communications for government and commercial clients. The company uses tethered drones, which don't require Federal Aviation Administration licenses for commercial use.
The company had $970,000 in revenues for the first six months of 2014, with net income of $180,000.
Continue Reading at BizJournals.com…
Alan is serial entrepreneur, active angel investor, and a drone enthusiast. He co-founded DRONELIFE.com to address the emerging commercial market for drones and drone technology. Prior to DRONELIFE.com, Alan co-founded Where.com, ThinkingScreen Media, and Nurse.com. Recently, Alan has co-founded Crowditz.com,  a leader in Equity Crowdfunding Data, Analytics, and Insights.  Alan can be reached at alan(at)dronelife.com