Researchers from Edinburgh University are using drones to study and demarcate global warming, and to determine how it is affecting glaciers in the Andes, a recent BBC article reports.
DRONELIFE reached out to the makers of the drones to learn more about the project – but first, the research.
Researches from a variety of sources have estimated that the glaciers have decreased in size by 30% over the last several decades.  As a quick geology refresher,  The Andes are the longest continental mountain range in the world,  with an average height of about 13,000 feet (4,000 meters) and is 4,300 miles (7,000 km) long. The range goes through seven South American countries:  Argentina, Bolivia, Chile, Columbia, Ecuador, Peru, and Venezuela.
With an average height of 13,000 feet, conditions make both breathing and flying a drone challenging.
Edinburgh University doctoral student Rosie Bisset led the team that hiked high into the mountains of the Andes with her customized drones in order to get aerial images that would allow the team to create an accurate 3D model of the Llaca glacier.
"At that altitude the air is really thin, making it difficult to operate many drones," she said.
"So we collaborated with a local company called Skytech Aerial to help us build a drone that would cope with the high altitude but also have the sensors we needed."
As with many research projects, the team had to get creative to come up with the tools required. Edinburgh-based Skytech Aerial's owner, Dr. David Redpath, provided the ingenuity and expertise that provided customized drones for the project.  Dr. Redpath told the BBC that he was able to customize the propellers need to spin faster in thinner air to create lift, running down the battery faster.  "We were able to merge ideas and customise one of the drones," Redpath said.
We contacted Redpath for more details on the mission – the hardware, software, and sensors.  "What Rosie specifically was looking for was a drone with a thermal camera underneath that would be able to do the thermal imaging of the glacier.  I happened to have a FLIR Vue 640R I could rent and she had a couple of DJI drones from other departments," Redpath tells DRONELIFE.  "Because of cash and time limitations we decided to make a payload for the DJI Phantom Pro she had rather than build a custom drone. The DJI app ecosystem was very limiting as only UgCS allowed terrain following (to maintain even GSD of the surface) and we couldn't get it to work even after paying the subscription fee."
"In the end we selected Drone Deploy  risking the downloaded mission plan would work away from internet," Redpath explains.
When it came to payload, the team faced more challenges – but an accident eventually led to a workable solution.
"I managed to engineer a mount for the bottom of the Phantom with the FLIR 640 on a fixed mount along with a geotagger and battery pack," Redpath says. "However, I had many concerns over weight."
"Sadly Rosie had a drone crash during practice, crashing into a field, luckily not with the FLIR," said Redpath.
"I managed to source a new shell without a camera which turned out better in terms of weight. I managed to tap the internal battery to power the FLIR and geotagger to save a bit more weight."
"All seemed to work well during local testing and I made an A4 ops manual for Rosie and her assistant to deal with any strange behavior: hot motor, battery warming, avoiding condors… and not falling down crevasses," Redpath joked.
Rosie and her field assistant climbed two glaciers, each carrying a drone in a backpack, spending nights in sub-zero temps to get the images that they needed.  The researchers will use the images to build a 3D model of the Llaca glacier, and compare that model to images collected in previous years to see how the glacier is changing.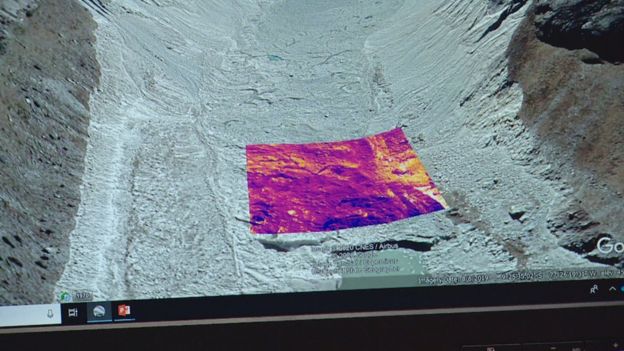 CEO DroneLife.com, DroneRacingLife.com, and CMO of Jobfordrones.com. Principle at Spalding Barker Strategies. Has enjoyed working with and around the commercial drone industry for the last 10 years.   Attendance and speaker at Industry Events such as Commercial UAV, InterGeo, Interdrone and others.   Proud father of two. Enjoys karate, Sherlock Holmes, and interesting things.  Subscribe to all things drone at DroneLife here. Email is Harry@dronelife.com.   Make Sure that you WhiteList us in your email to make sure you get our Newsletter.  Editor1@dronelife.com.