(Source: Gizmodo.com)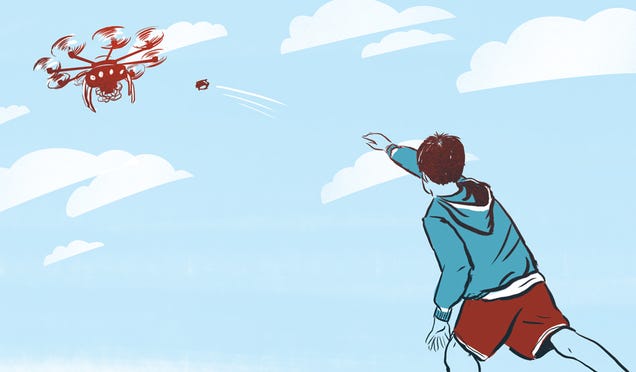 They're robots. They fly. They're watching you. And they're increasingly found everywhere: Yup, they're drones. You may think you know exactly what they are and what they do. You don't.
Like lots of emerging technologies, drones are often misunderstood, especially early in their existence. To help you navigate our brave new world filled with swooping, buzzing, photo-snapping machines, we reached out to some of the greatest experts in the field. We asked them, what are the most bogus drone myths? What drives you crazy? What do you wish you could shout from the rooftops? Here's what they said.
1. They're not actually called drones, nor quadcopters
Calling them "drones" in the first place is a no-no, according to Vijay Kumar, an engineering professor at the University of Pennsylvania. (He's not the only one who thinks so, either.) He and his research team work on aerial robots in his lab.
"The only thing that is drone-like about our robots is that they make a continuous humming sound," Kumar says. "If I was an airforce pilot controlling a remotely piloted vehicle (which is what they are) and you called it a drone, I would be insulted. I can't think of anything in the definition of a drone that is suggestive of what the pilot does. Certainly the characterization the pilot does no work does not do him or her justice."
While we're at it, Kumar also says calling a robot with four rotors a "quadcopter" is "just plain wrong English."
"'Quad' refers to four. 'Copter' is short for helicopter. A quadcopter describes four helicopters. A robot with four rotors is a helicopter, perhaps a quadrotor helicopter. It is not a set of four rotorcrafts."
What should you be calling "drones"—like the flying robots Kumar and his team make at his lab at Penn—instead? Kumar says: "The military uses RPVs (remotely piloted vehicles). When the vehicles are autonomous (like ours), they are robots."
2. The biggest danger from drones isn't invasion of privacy
Kumar admits that many people live in fear of camera-equipped drones. But the problem is that the legislation designed to combat these supposed privacy threats doesn't actually deal with how RPVs actually work.
FAA regulations say you can't fly personal drones above 400 feet over personal property. But is keeping drones at, say, 410 feet any more private? Your creepy neighbor leaning over your fence, taking photos with his phone is a bigger threat to your privacy than anything, as well as a more realistic one.
"Do people think about the number of pictures of them on the internet that were taken without their knowledge by smart phones and digital cameras?" Kumar asks. "Can you really prevent drones from taking pictures that [can't already] be obtained on Google Earth?"
Continue Reading at Gizmodo.com…
Alan is serial entrepreneur, active angel investor, and a drone enthusiast. He co-founded DRONELIFE.com to address the emerging commercial market for drones and drone technology. Prior to DRONELIFE.com, Alan co-founded Where.com, ThinkingScreen Media, and Nurse.com. Recently, Alan has co-founded Crowditz.com,  a leader in Equity Crowdfunding Data, Analytics, and Insights.  Alan can be reached at alan(at)dronelife.com