(Source: kuer.org)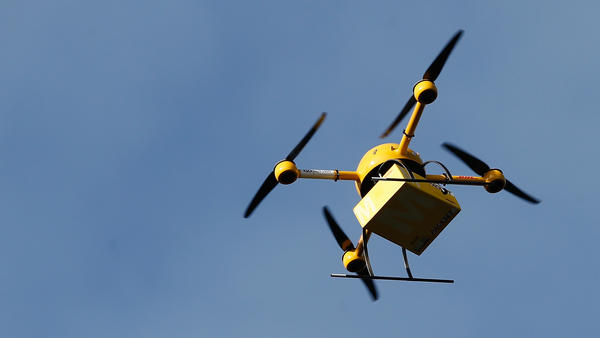 One week last year, Jonathan Ledgard was talking with White House officials about how drones could deliver cargo to remote Africa. The next week, he was in a remote African village, telling elders how drones could change their lives.
He heard the same fears from both audiences: Will the drones crash into our houses? Will they spy on us? Will they attack us?
"The first reaction from people to drones is always emotional," says Ledgard, an outspoken advocate of drones as an answer to Africa's transport challenges. "We need to develop them in a way that humans don't feel threatened."
So he's taken to calling his drones "flying donkeys," as if they're merely airborne beasts of burden. It's the sort of metaphor the British citizen polished as a novelist and journalist, including a decade as African correspondent for The Economist magazine.
Now Ledgard heads a nonprofit consortium of technicians, philanthropists and planners who think drones can overcome one of Africa's steepest challenges: a lack of transportation infrastructure that stymies trade. Ledgard's group envisions a massive fleet of autonomous, robotic ships carrying cargo through the air above roadless savannas, jungles, deserts and mountains.
And it isn't a dream some 10 years out, says Ledgard, whose drones consortium is a spinoff of Afrotech, based at the Swiss Federal Institute of Technology. He says the group will have a test route in place this year to fly medicines among several villages. Ledgard calls it an initial line for humanitarian aid.
He predicts lines of commercial traffic will follow soon, particularly as drones grow large enough to carry bulkier cargo. Drones delivering cargo today might carry six pounds. In perhaps three years, they'll carry 22 pounds, and 44 pounds a few years later, Ledgard says. "That's the tipping point where commercial service takes off."
One day, perhaps 40 percent of African trade could travel by drones, Ledgard predicts. That would boost economies and link cities, tribes and countries in lucrative trading channels. He's counting on billions in investment from shippers to make it all happen.
Africa can leap ahead of other continents in the use of drones because of its pressing need for an alternative to conventional transport, Ledgard says. Also, much of African airspace is less cluttered with flights that have slowed the adoption of commercial drones in North America and Europe.
Alan is serial entrepreneur, active angel investor, and a drone enthusiast. He co-founded DRONELIFE.com to address the emerging commercial market for drones and drone technology. Prior to DRONELIFE.com, Alan co-founded Where.com, ThinkingScreen Media, and Nurse.com. Recently, Alan has co-founded Crowditz.com,  a leader in Equity Crowdfunding Data, Analytics, and Insights.  Alan can be reached at alan(at)dronelife.com