(Source: robohub.org)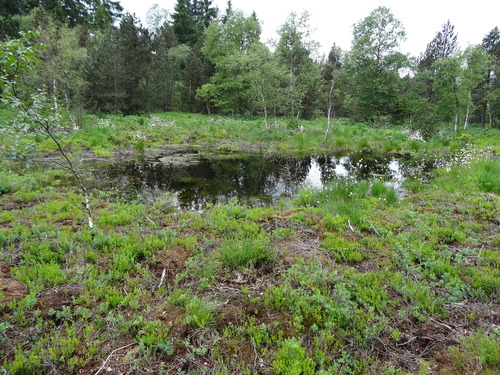 Most Drone Adventures missions to date have involved using eBee mapping drones to assist humanitarian projects. However in recent months we have taken part in an increasing number of environmental conservation projects too, such as our recent Namibia mission.
Here in Switzerland we were contacted by Pro Natura, a non-profit conservation organization with over 100,000 members, to help with a unique biodiversity project – using drones to create orthomosaics and terrain models of an ancient peat bog in need of regeneration.
An important but declining resource
Peat bogs, also called quagmires, are unique environments. They develop over many centuries on naturally waterlogged sites where micro-fauna cannot survive. As a result, dead plants cannot be degraded, and instead these layer up over time, very gradually creating large deposits of nutrient-rich peat.
These bogs typically attract a huge array of plant and animal species, many of them rare, making them of great importance to biodiversity. However such ecosystems are increasingly hard to find.
In Switzerland for example, peat bogs cover a mere 0.035% of the country, yet they are home to 25% of the country's endangered vascular plants. On a global basis meanwhile, such quagmires cover only 3% of the earth's land mass, but contain a full one-third of all the ground-stocked carbon on the planet.
Why have peat bogs become so few and far between? The answer is two-fold: large amounts of peat exploitation over the last century; and the drying out of land for use by intensive agriculture. And the proportion of the earth's surface that these sites account for continues to decrease, with one study having recorded a global decrease of 10% between the years 1997 and 2002 alone.
Interestingly, Swiss quagmires are remnants of a wider landmass, linked to the Nordics, and therefore contain many of the same bug and insect species; just one of the reasons why the remaining quagmires in Switzerland are considered irreplaceable.
The regeneration project
The specific site that Drone Adventures was asked to map is a rain-fed or 'ombrotrophic' bog in Forrenmoos, close to Lucerne in central Switzerland.
We were contacted by Pro Natura to help with this site's regeneration by providing accurate terrain models that Bastien Amez-Droz, Pro Natura's Head of Nature Reserve & Wetland Projects, could use to plan the regeneration of three separate areas of this bog site – the aim being to ensure its continued good health by reforming the terrain to better catch and retain water.
Continue Reading at robohub.org…
Alan is serial entrepreneur, active angel investor, and a drone enthusiast. He co-founded DRONELIFE.com to address the emerging commercial market for drones and drone technology. Prior to DRONELIFE.com, Alan co-founded Where.com, ThinkingScreen Media, and Nurse.com. Recently, Alan has co-founded Crowditz.com,  a leader in Equity Crowdfunding Data, Analytics, and Insights.  Alan can be reached at alan(at)dronelife.com