There are two universal truths in the drone industry. The first is that technology companies will file rafts of drone-related patents in an attempt to score easy PR and cover even the most obscure bases for the future. The second is that tech workers need the occasional caffeine hit from time to time.
Combining those two trends this week is IBM. The tech giant has patented a drone system that can identify the "cognitive state" of office workers and lower cups of coffee on demand, with a little help from an "unspooling string".
Quite how the drone will be able to detect the cognitive state of office workers remains to be seen. Perhaps the system could harness some of IBM's AI tech to read into body language to see who would benefit most from an expresso. IBM's patent suggests the drone could detect blood pressure, pupil dilation and facial expressions to decide whether workers are feeling drowsy.
Read more: Josh Ziering: What the Commercial Drone Industry Can Learn from a 112 Year Old Patent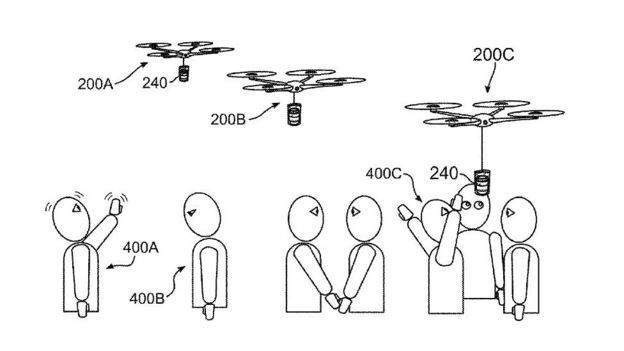 IBM's Coffee Delivery Drone Patent
If it does come to fruition, IBM's coffee delivery drone patent would no doubt go down in history as one of the most trivial we have seen. Sure, drones have been known to deliver milkshakes and pizza in the past – but at least those examples didn't come with a creepy tiredness detector and a burn risk.
The patent process can cost thousands of dollars in the US, so there must be someone at IBM who likes the idea of delivering coffee from above.
One of the variations of the design suggests the drone could be dispensed directly into a worker's mug. Another option describes hot drinks delivered in sealed bags in an effort to prevent scalding drips, lawsuits and generally demoralising the workforce.
It'll be interesting to see how this patent plays out. For now though, you might be better off sticking to the vending machine.
Malek Murison is a freelance writer and editor with a passion for tech trends and innovation. He handles product reviews, major releases and keeps an eye on the enthusiast market for DroneLife.
Email Malek
Twitter:@malekmurison
Subscribe to DroneLife here.