The largest port project in Israel, Haifa's new "Gulf Port" is a large and complex feat of construction.  Drones are now standard equipment for large development – but the mapping and surveying of this project will be handled in part by drones without a human pilot.
"Airobotics, the Israeli startup that built the world's first fully automated drone, announced today its partnership with Shapir-Ashtrom to survey the construction of Haifa's new seaport, "Gulf Port", intended to further develop Israel's coastline areas, and increase maritime traffic and international commerce," says a company press release.
This is a major contract for Airobotics – and a major step for automated drones.   The use of automated drones on a project of this size will provide a proof of concept for construction firms around the world.   As the Airobotics solution contributes to on-time delivery and reduced costs, other projects will be quick to follow suit.
"Airobotics' automated drones have been used for the past eight months for surveying the construction progress, and surveying the area daily," says the company. "The seaport's project introduces smart planning, characterized by safely documenting and evaluating project development, providing engineers, and contractors with an accurate depiction of project development, and timeline expectations."
"Within eight hours of drone mission completion, Airobotics delivers orthophotos to the customer, on a daily basis. Airobotics produces high-resolution aerial visuals from data that's automatically collected, and measured using hundreds of thousands of surface points to create an accurate visual model, instead of traditional humanly operated surveying techniques that measure only hundreds of points."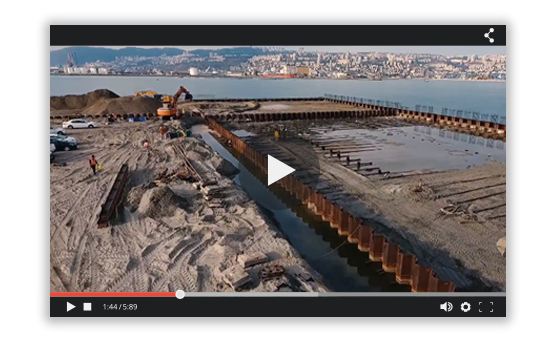 "We're proud to take part in the largest port construction project in Israel, and continue to reach more complex industrial environments," said Ran Krauss, CEO and Co-Founder at Airobotics. "This partnership is another step on our way to leverage the automation technology we've created to benefit any industrial site around the world."
Airobotics' full automation overcomes limitations posed by manually operated drones, by having the capability to fly at high altitudes, without maintaining a line of sight, and interfering with construction infrastructure, including cranes and large equipment.
"Drones are the future. Utilizing Airobotics' automated drones in this project proved to be an efficient choice, and I'm certain that this valuable tool is innovating the way we operate in construction sites," said Ofir Uzana, Senior Project Manager at Shapir Civil and Marine Engineering. "We managed to build a very reliable working mechanism using Airobotics' system, that shows results in almost real time, which is a huge achievement."
Miriam McNabb is the Editor-in-Chief of DRONELIFE and CEO of JobForDrones, a professional drone services marketplace, and a fascinated observer of the emerging drone industry and the regulatory environment for drones. Miriam has a degree from the University of Chicago and over 20 years of experience in high tech sales and marketing for new technologies.
Email Miriam
TWITTER:@spaldingbarker