Ford has filed a patent for a drone system integrated into a car- one that could provide emergency services, lights, security, or more.
On the commercial side,  drones have been paired with cars before: see Mercedes Benz partnering with Matternet for drone deliveries in Switzerland.  They've been paired with adventure vehicles for recreational purposes: like this motorcycle.  And Land Rover came up with the idea of an "rescue" drone in 2017.
In the latest twist,  Ford Motor Company has filed a patented a drone system that would launch from the trunk to provide emergency services when the car breaks down, or help first responders to find a car that may be off the road  – by shining a light,  giving a precise GPS location,  or turning on a siren.  The drone could stream video of an accident scene, doing the work of a first response drone.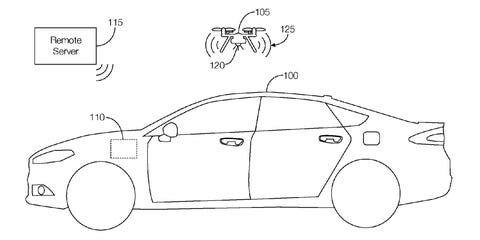 According to the patent, dated October 10 and filed with the U.S. Patent and Trademark Office, the system even has a panic mode.
A Ford article outlining the company's drone research provides this image of a quadcopter, which the article says is used by Ford's engineers to test different areas of functionality.
As drone adoption accelerates, we think many of our customers will want to use these devices as part of their lifestyle, whether to pursue hobbies or even as a tool for their business — no different than how they use an F-150 or Transit on a job site. By conducting in-house research in this emerging area while simultaneously participating in the regulatory conversation at the federal level, Ford is laying the groundwork to make sure our vehicles can deliver the right experiences to our customers as we transition to a smart world.
CEO DroneLife.com, DroneRacingLife.com, and CMO of Jobfordrones.com. Principle at Spalding Barker Strategies. Has enjoyed working with and around the commercial drone industry for the last 10 years.   Attendance and speaker at Industry Events such as Commercial UAV, InterGeo, Interdrone and others.   Proud father of two. Enjoys karate, Sherlock Holmes, and interesting things.  Subscribe to all things drone at DroneLife here. Email is [email protected]   Make Sure that you WhiteList us in your email to make sure you get our Newsletter.  [email protected]