We've heard plenty about how drones are enabling new types of scientific research and wildlife conservation. But we haven't heard that much about the potential downsides of operating near wildlife. To raise awareness on those issues and educate pilots, Oceans Unmanned has launched Eco-Drone, a project that aims to encourage 'Environmentally Conscious Operations' and communicate best practices to pilots flying in sensitive areas or around sensitive species.
The ECO-Drone program is seeking to bring together federal and state agencies, industry and education institutions to develop and communicate the best ways to minimize or eliminate resource disturbance issues due to scientific and recreational drone operations.
The Eco-Drone Program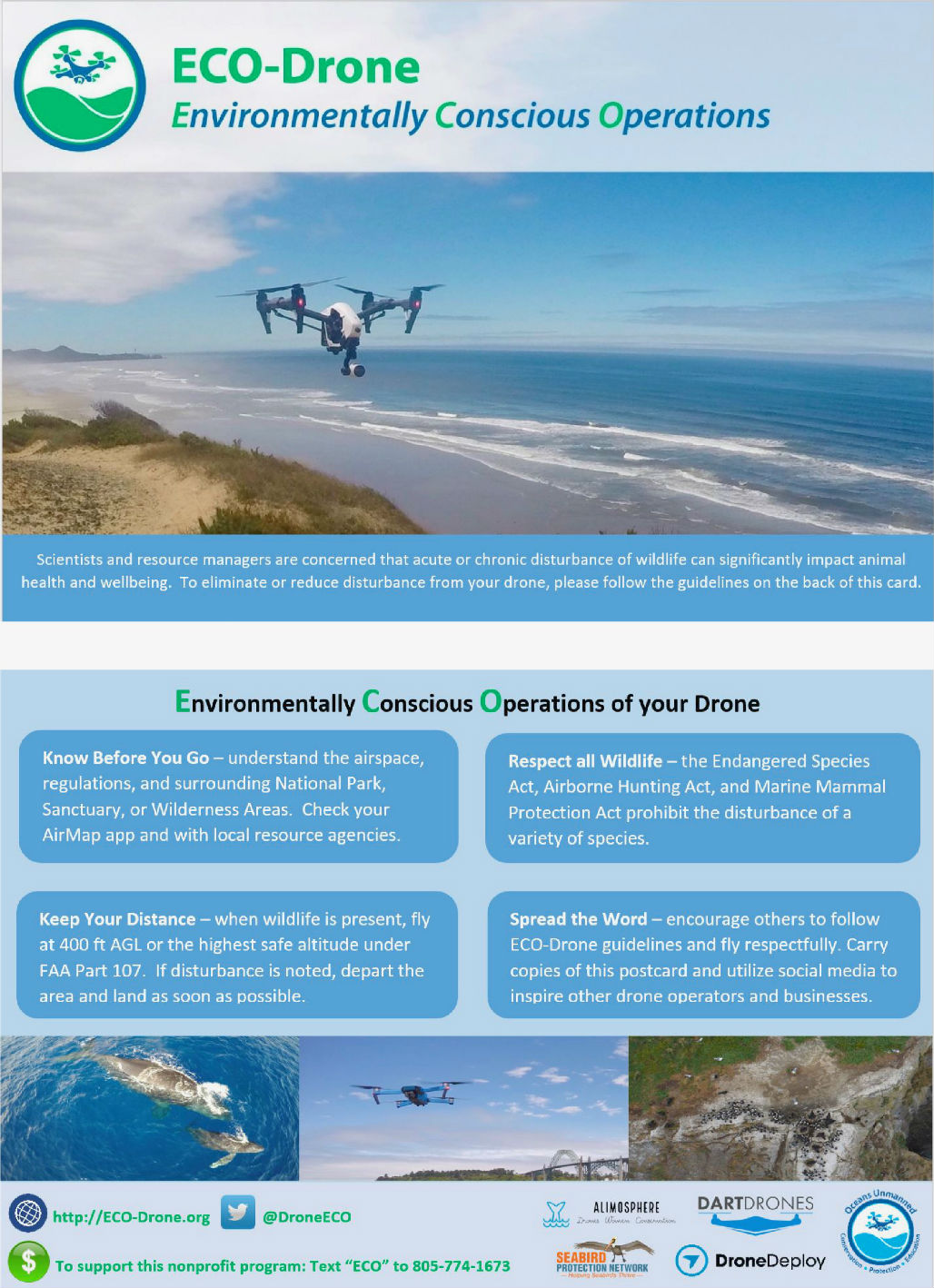 The Eco-Drone program has three main goals:
Increase public awareness of existing marine resource protection regulations and policies that apply to research and recreational drone use
Engage and educate recreational drone operators to respect ocean wildlife
Encourage federal and state marine resource management agencies to modernize and refine existing policies and regulations to address the potential disturbance of drone use.
Recognizing the role drones can play in conservation
As mentioned above, drones have found niche applications in collecting whale snot, scaring off poachers and mapping rainforests. But often overlooked are the detrimental effects they can have on wildlife if used incorrectly.
"These inexpensive, off-the-shelf drones have the potential to revolutionize biological monitoring and inspire a whole new generation to research, explore and photograph our ocean coastlines and marine environment," said Matt Pickett, Director of Oceans Unmanned. "but they also pose a challenge to wildlife, as previously inaccessible habitats are exposed to new disturbances. ECO-Drone will educate and engage the user community to ensure all wildlife and their habitats are respected and protected."
While the disturbance potential for manned aircraft and helicopters has been well documented and studied, the research on drone disturbance is just beginning. Scientists and resource managers are concerned that acute or chronic disturbances of wildlife by drones can significantly impact animal health and fitness by disrupting migratory patterns, breeding, feeding and sheltering.
Welcome to ECO-Drone! Our mission: to advance and encourage Environmentally Conscious Operations of recreational and research drones #drones pic.twitter.com/FILniQCSSQ

— ECO-Drone (@DroneECO) September 6, 2017
Speaking to DroneLife, Brian Taggart, Director at Oceans Unmanned, said that ""One of the big challenges with this emerging issue is that each class and type of drone presents a different visual and acoustic profile, and each species of concern reacts differently to those factors.  So developing a set of best practices across a broad range of platforms and species is challenging and why we have started with a general awareness campaign as the research continues to develop."
"As for the most pressing concern, I would venture that seabirds present an urgent issue.  The ability for off-the-shelf consumer drones to fly over previously inaccessible habitat can cause the birds to flush off their nests and damage or destroy eggs and leave them vulnerable to predators.  A single flushing event can have serious consequences for a breeding colony."
He was also keen to point out that the Eco-Drone project is more focused on enthusiasts, rather than conservation professionals. "Oceans Unmanned is dedicated to protecting our oceans and coastal marine environment by facilitating the use of unmanned technologies," he said, "so our goal is to promote drone use for scientific research and monitoring, but in a responsible manner."
"We are not as focused on educating researchers, as in most cases they will be required to obtain permits for the Endangered Species Act or Marine Mammal Protection Act and have some understanding of wildlife disturbance.  Our primary education and outreach focus is on the private drone operator, who may not be aware of the potential for wildlife disturbance, and our campaign is to provide that general awareness that this is an issue to consider and understand."
The first two projects underway are a direct outreach campaign and an education partnership. Oceans Unmanned is working with the Bureau of Land Management (BLM) to distribute informational postcards about drone etiquette at coastal access points along the central California coast. In addition, Oceans Unmanned has partnered with DARTdrones, the national leader in drone training and consultation, in development of an ECO-Drone training module to educate drone operators at the beginning of their careers and businesses.
Malek Murison is a freelance writer and editor with a passion for tech trends and innovation. He handles product reviews, major releases and keeps an eye on the enthusiast market for DroneLife.
Email Malek
Twitter:@malekmurison
Subscribe to DroneLife here.