(Source: upstart.bizjournals.com)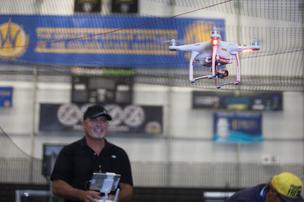 nine-minute flight from San Francisco to Palo Alto — instead of the usual grueling hour-long commute — could be a reality in shipping if Joby Aviation has its way.
Although the majority of drones planned for use today are for aerial photography purposes (75 percent, according to a Skypixel poll), some Bay Area companies are thinking outside of the box and working on projects with shipping and other elements that go beyond recreational or film purposes.
Joby Aviation, a Santa Cruz-based startup, is one of the Silicon Valley drone companies that spoke at the Drones, Data X Conference on Friday, was hosted in Santa Cruz for the first time this year. The company noted traffic is a huge problem in the U.S. The ground transportation industry makes up 13 percent of the country's gross domestic product, its CEO JoeBen Bevirt said in a presentation at the conference.
"We all hate sitting in traffic," he said. "It's one of our least favorite things to do and it kills huge amounts of productivity."
Autonomous air taxis are 100 times quieter than a helicopter and five times faster than a car, he said. They'd mostly work for medium to longer-range trips, he added.
"You're not going to use this to go the grocery store," Bevirt said.
The Menlo Park-headquartered Matternet attended the conference and discussed how its drones are helping deliver diagnostics and medicine to third world countries.
The Matternet ONE drone transports 1 kilogram over 20 kilometers on a single battery charge. The secure routes that adapt to weather, terrain and airspace allow the drone to fly autonomously beyond line of sight, without the need for a human pilot, Matternet says.
Continue Reading at upstart.bizjournals.com…
Alan is serial entrepreneur, active angel investor, and a drone enthusiast. He co-founded DRONELIFE.com to address the emerging commercial market for drones and drone technology. Prior to DRONELIFE.com, Alan co-founded Where.com, ThinkingScreen Media, and Nurse.com. Recently, Alan has co-founded Crowditz.com,  a leader in Equity Crowdfunding Data, Analytics, and Insights.  Alan can be reached at alan(at)dronelife.com