(Source: Biz Journals)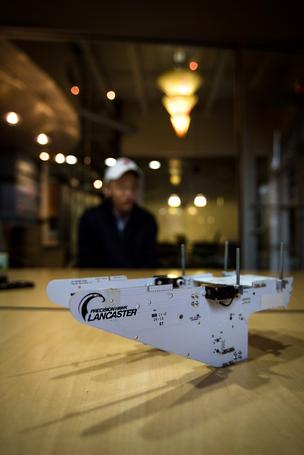 Insurance giant USAA is considering using a 5-pound PrecisionHawk drone to survey disasters.
The San Antonio company has asked the Federal Aviation Administration for permission to research how the aerial robots could streamline the insurance claims process.
The small unmanned aircraft systems, developed by Raleigh-based PrecisionHawk, would fly during the day within line of sight of a trained pilot and air crew on the USAA campus in Texas, as well as unpopulated land around San Antonio.
[cms id="280″]
But that's only if the FAA grants approval.
"We believe this research can lead to safer, quicker and more economical claims service for our members and their communities," said Kathleen Swain, USAA Property and Casualty Group staff underwriter and FAA-rated commercial pilot and flight instructor.
"This research could lead to industry breakthroughs that help make an extremely difficult time for people a little easier."
PrecisionHawk, which counts Red Hat co-founder Bob Young as an investor, primarily develops its data-collecting drones for agricultural purposes. But land surveying, as well as applications in oil and gas, are being explored.
Currently, PrecisionHawk crafts are flying at certain sites in North Carolina through the Next Generation Air Transportation program out of N.C. State University.
The FAA does not allow companies to use drones for commercial or research purposes without special permission. The organization has started to soften its stance, giving a number of Hollywood companies permission to use drones in film production.
USAA's family of companies provides insurance, banking, investments, retirement products and advice to current and former members of the U.S. military and their families.
Continue Reading at BizJournals.com…
Alan is serial entrepreneur, active angel investor, and a drone enthusiast. He co-founded DRONELIFE.com to address the emerging commercial market for drones and drone technology. Prior to DRONELIFE.com, Alan co-founded Where.com, ThinkingScreen Media, and Nurse.com. Recently, Alan has co-founded Crowditz.com,  a leader in Equity Crowdfunding Data, Analytics, and Insights.  Alan can be reached at alan(at)dronelife.com