(Source: CNN)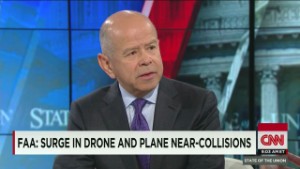 It's a bird, it's a plane, it's a … drone?
More and more often, large commercial airliners are encountering small, unmanned aircraft flying through the sky, sometimes undetected by the human eye, and often invisible from the cockpit of a large airplane.
According to Michael Huerta, head of the Federal Aviation Administration, regulations are in place to prevent drones from interfering with large aircraft — but education about drone safety and regulation enforcement needs to be improved in order to actually keep airways safe.
"That is certainly a serious concern and it is something that I am concerned about," Huerta told Candy Crowley on CNN's "State of the Union" Sunday. "That's why we are very focused on education. That's why we're also focused on enforcement. We've enforced hundreds of these cases where we have seen someone operating one of these things carelessly and recklessly and posing the danger to aircraft, and that can't happen."
Since drones have entered the commercial market, the FAA reports pilots have seen up to 25 cases per month of drones flying above the regulated limit of 400 feet, with some flying as high as 2,000 feet in the air. Huerta says the FAA is working to educate people about the dangers of flying drones that high, since enforcement of the small, unmanned aerial vehicles can be difficult.
"(A) big part of what we're doing is educating people," Huerta said. "These are very high performance aircraft, and they are difficult to see and this is one of the big challenges, and so that's why the rules require that people stay away from airports."
"We have been working with the Model Aeronautics Association, with the model community and clubs so we can educate people because these are not your typical pilots that may be flying one of these for the first time and they may be unfamiliar with the rules," he added.
Alan is serial entrepreneur, active angel investor, and a drone enthusiast. He co-founded DRONELIFE.com to address the emerging commercial market for drones and drone technology. Prior to DRONELIFE.com, Alan co-founded Where.com, ThinkingScreen Media, and Nurse.com. Recently, Alan has co-founded Crowditz.com,  a leader in Equity Crowdfunding Data, Analytics, and Insights.  Alan can be reached at alan(at)dronelife.com